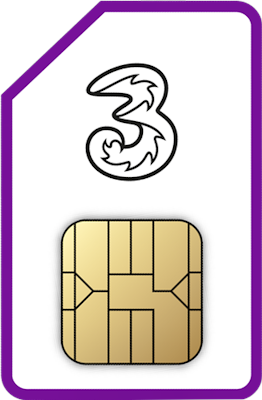 24 month SIM Only contract | 12GB data | Unlimited texts and calls |
Last update was on: 17/10/2021 2:52 pm
Advanced SIM Only 12GB tariff with unlimited texts, unlimited minutes and 12GB data. 
* Feel at Home in Europe * 5G-ready * Personal Hotspot Allowance * Go Binge * Recommend a Friend and Earn Rewards * 30GB Personal Hotspot * Three Wi-Fi Hotspots * Roam around the world in 71 destinations * £5 monthly discount for using direct debit
Triple SIM
A Triple SIM is a Standard SIM card with a snap-out Micro SIM and Nano SIM embedded in it. They work just the same, but are compatible with three times as many devices. With this clever hybrid SIM Three SIM Only Deals work in any phone you care to throw at it.