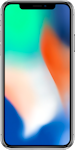 Refurb | Silver | 64GB storage | Grade B condition | Unlocked SIM Free
Last update was on: 25/07/2021 11:47 pm
Three don't sell refurbished handsets, but these refurbished Apple iPhone 8s will work with your existing Three contract or any of our Three SIMO contract deals.
The iPhone X comes with a 5.8 Super Retina display employing the first OLED screen that rises to the standards of iPhone with durable glass front and back and surgical-grade stainless steel, wireless charging and water and dust resistance. Face ID allows a secure way to unlock, authenticate and pay and is enabled by TrueDepth camera that can mirror expressions in animojis. All this is possible by the A11 Bionic, the state-of-the-art technology with a neural engine, faster CPU and adaptive recognition.
What do I get?
A refurbished mobile phone has either been professionally refreshed after being treated well by a previous owner or returned to the retailer very soon after being purchased. Either way, your new refurbished phone is tested and comes with a 12 month warranty.